Medicines are counterfeited because the real medicine is too expensive or unavailable to the potential buyer. Drug counterfeiters aim for both perceived convenience and people's desperation. The use of fake medicines poses a great risk. First of all, the expected effect may not be there, secondly, the effect may be too small or too large, and thirdly, the counterfeit medicine may be toxic to the human body.
In most product categories, counterfeits originate in China, with approximately 55% of global customs seizures, and Hong Kong, which is also a part of China, with 19%. 60% of confiscated goods were sent by mail, but in terms of value, the most confiscated counterfeits were transported by sea. In addition, 60% of the dangerous products seized worldwide were purchased online and aimed at the EU.
Unfortunately, the pandemic exacerbated the already existing trends in the trade of counterfeit and dangerous goods. This is particularly true for counterfeit medicines and other high-risk industries, where disrupted supply chains and shifts in demand created new potential for criminal activity.
Place
Never buy medicine from unknown websites or from non-pharmacy outlets. If you are unsure of a website or pharmacy, check your local health regulatory authority's list of registered drug dealers. This applies to both online and offline suppliers.
There are persons who, through private contacts, try to offer consumers to buy cheaper, including questionable, medicines from third countries visited during their travels, without specifying the place of purchase or by supplying them illegally. Such offers should not be accepted, they should be rejected in order not to become a victim.
Recipes
Only buy medicines that have been prescribed by your doctor or healthcare professional. Prescription drugs can only be purchased in pharmacies with a doctor's prescription.
All over the world, erectile dysfunction drugs are the most commonly counterfeited and sold online. The intimate nature contributes to the situation where patients of these drugs are often shy about asking their doctors for prescriptions. Next in terms of counterfeiting are oncology drugs, the main reason for which is the cost of original drugs.
Promises
Be wary of websites that offer drugs with similar slogans as 'too good to be true'. False promises to watch out for include 'cures many types of serious illnesses', 'money back guarantee', 'no risk' or 'limited supply – buy now!'
Today on the Internet, websites, social networks and browsers actively use the analysis of user activity. If you have searched for information about some medicine, after a short time an advertisement from an unknown page may appear, where such a medicine is sold and it has an 80-90% discount right now. Be careful and buy medicines only from legal and verified websites.
The price
Check the price compared to the medicines you usually buy in safe pharmacies. If they are significantly cheaper, they are most likely a fake.
Drug production is extremely complex, involving many people, hours and years of research, strict quality control, investment in production facilities and other resources, so the final price of the drug is often quite high. It is completely the opposite with fake medicines – it is not known under what conditions and from what raw materials they are produced, how they are stored and transported. When using fake medicine, the result of taking the medicine is not known. This is an extremely high risk to human health.
Confidentiality
Do not provide any financial information to a site unless you are sure it has a secure online payment system. The sale of counterfeit medical products has also been linked to credit card fraud and identity theft. Do not disclose any personal information other than relevant medical information.
The medicine itself and its packaging
Compare the medicine with the original medicine bought elsewhere. Medicines are counterfeit if:
– they contain too much, too little or different ingredients;
– claims to have different properties or side effects;
– has a different shape, size, taste or color;
– the package label is not correct or the package does not indicate the drug information
– the packaging is outdated or has no expiration date;
– does not contain information on drug storage;
– the packaging looks of poor quality;
– there are spelling or grammatical errors on the packaging or instructions.
Fraudsters make sure that the packaging and external appearance of counterfeit medicines resemble the original. Each industrially produced tablet or capsule has a certain shape and color, it cannot be slightly lighter or darker. The shape, tone and font size of the packaging are also coordinated and accurately documented. Counterfeiters of medicines, on the other hand, try to imitate the external signs – such as the medicine itself, its packaging, registered trademarks – as much as possible. However, fakes, even very good ones, still have small differences – a slightly different color, slightly longer or shorter letters, lower quality printing and others.
When buying counterfeit medicines, a person cannot know whether they contain the necessary active substance or whether it has not been replaced by someone else. If the active substance is present, the dose may be too high or too low. Even if the manufacturers of counterfeit drugs have somehow obtained the active ingredient of the medicine, the degree of its purity is unknown. If the substance is synthesized under unknown conditions, it may have various impurities that can be toxic, harmful to the human body. Each tablet or capsule contains excipients without the active substance, which may also be of poor quality. They can suppress the active substance of the medicine or – on the contrary – activate it. If the medicines contain unknown impurities, they can also be toxic to the body.
There are many cases where the use of fake medicines has caused physical damage to people's health – medicines for diabetics that did not contain vital insulin, contraceptives that caused unplanned pregnancies, antimalarials that did not protect against infection, etc.
If a person in Europe buys medicine in a certified pharmacy or receives medicine in a hospital, he can be sure that he is not receiving fakes, because the control in Europe is at a very high level. Already in 2019, with the Counterfeit Medicines Directive, the EU determined that each medicine package has a unique identification code. It is placed by the manufacturer and checked or verified several times in online databases on the way to the consumer. At the end of the supply chain, when the medicine is sold to the patient or used for treatment, the pharmacy or medical institution deletes the code from the system. This ensures that the same code cannot be used to inject counterfeit medicines into the legal supply chain.
In the European Union and the countries of the European Economic Area, a unified logo has been introduced for pharmacies that offer citizens to buy medicines on the Internet. The single logo consists of four color bands (gray and three shades of green) below which is an image of the flag of the country where the online pharmacy is registered and the text "Click here to check if this website is legitimate". By clicking on the logo on the pharmacy's website, patients are redirected to the online register of the national drug agency, in Latvia – the State Agency of Medicines, which lists all legally operating internet pharmacies in the country.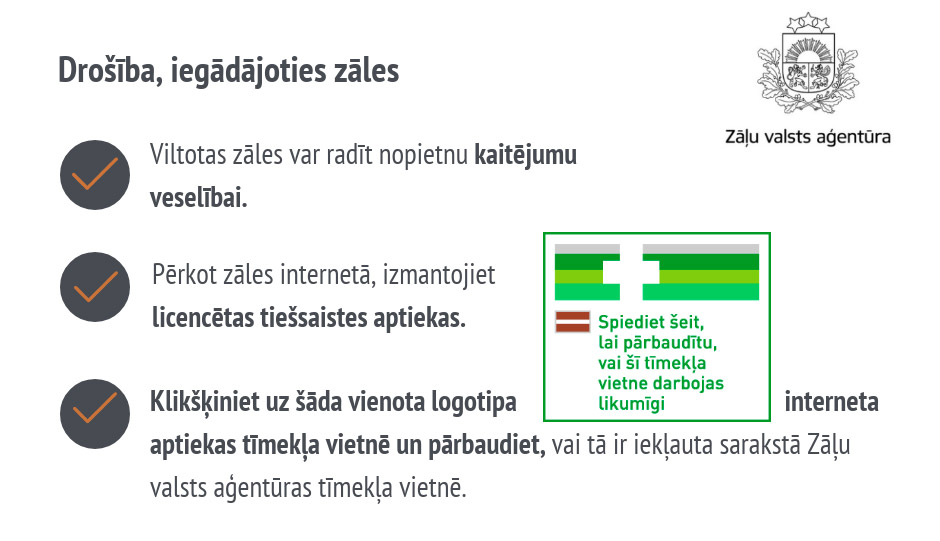 We invite you to buy all medicines and nutritional supplements only in legal pharmacies and online pharmacies, not to use unknown and unverified websites for the purchase of any medicines and nutritional supplements, and in no case to buy medicines from individuals or legal entities based on advertisements on Internet portals or social networks.